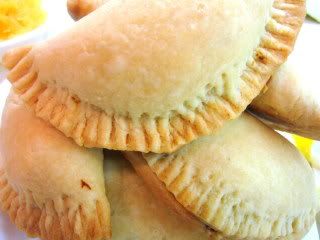 Empanada is a bread or pastry that is stuffed with a meat and vegetable filling The origin of this dish is said to come from Arab countries and introduced to Spain and Portugal. Literally, the term empanada comes from the Spanish and Potugese verb empanar, which means to wrap and coat in bread. I'm pretty sure emapanadas were introduced to the Philippines when Spain colonized us.
source: http://en.wikipedia.org/wiki/Empanada
Filipino emapanadas are usually baked and filled with seasoned ground beef or chicken, onions, vegetables, and raisins. Although, the empanadas in Ilokos Norte are huge, fried, and filled with mongo beans (mung beans), chorizo, and an egg. This empanada is usually eaten with Jufran or garlic vinegar. I've tried these particular empanadas at a street cart vendor near my dad's home town and personally, I like the Ilokano version better. I have yet to try making the Ilokos Norte empanada version... maybe I'll be inspired when Dime and I head back to the Philppines next summer. Yum... can't wait.
Last weekend, my mother in-law showed me how to make her version of empanadas....I just veganized her recipe. I made two versions- vegetable empanadas and pineapple emapanadas. I'm actually not going to publish the pineapple recipe...this was my mother in-laws own creation and I think I'm just gonna keep it in the family. haha.